Saeco Incanto Deluxe
The Saeco Incanto Deluxe Machine is part of the Incanto range of automatic machines. Saeco's innovative technology, which includes three programmable settings, an LCD Digital Display and ceramic disc grinder for grinding coffee beans are features of this machine. Customizing and brewing espresso is made a lot easier due to the Saeco Brewing System (SBS). The Rapid Steam Technology allows easy frothing of milk for cappuccinos and lattes.
The Incanto Deluxe's innovative design and simplicity of operation make it a great choice of automatic espresso machine.  The LCD Digital Display has an easy to follow menu where you can adjust any program parameters. Ease of use, simplicity, reliability, and consistency in producing very good quality coffee are features of this machine.
The Saeco Incanto Fully Automatic is compact and sleek and is equally suitable for home or small business use. All that is really required to make a great coffee with this machine, is to push a button and the machine does the rest. It grinds the beans, and doses the ground coffee, tamps and brews the coffee to your liking and even discards the used grounds into a separate container. has a patented brew group that is detachable. The Auto milk frother produces froth that is ideal for cappuccinos.
Every part of the coffee making process is dealt with correctly by the Saeco Incanto, thus ensuring that the end result is a great espresso.
To avoid the detrimental effects of the atmosphere, the unground beans are kept inside a dark tinted hopper. The beans are ground using a built in ceramic disk grinder. The grinder can be adjusted to the fineness of grind you prefer and then the correct quantity of beans are ground automatically. The ground coffee is then pre-infused to bring out the best qualities of the coffee. Lastly, the espresso is dispensed directly into your cup, which you can preheat on the machine's active cup warmer.
With its stylish design and its compact footprint, the Incanto Deluxe fits perfectly into any kitchen or anywhere for that matter. With its world class technology and ability to make barista quality coffee automatically, the Saeco Incanto Deluxe is excellent value if you are looking for a fully automatic espresso machine.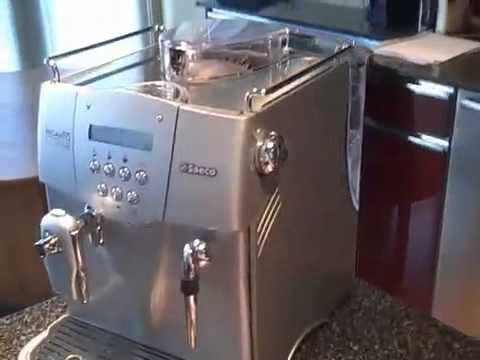 Click the button below to buy the Saeco Incanto Deluxe Espresso Machine directly from the supplier.

Saeco Incanto Deluxe