Rancilio Rocky Coffee Grinder
The Rancilio Rocky Coffee Grinder is one of the best grinders available on the market, specially suitable for espresso for domestic as well as commercial purposes. The Rocky is superior in many ways to other grinders available in the home espresso market, essentially because it has been developed based on Rancilio's commercial grinders.
With their precision cutting tooth design, the hardened tempered steel grinding burrs of the Rancilio Rocky ensure that a consistent grind is always achieved.
Using the Rancilio Rocky Coffee Grinder not only are you able to dispense the freshly ground coffee directly into the portafilter filter basket, but you can dispense the ground coffee into any kind of container. The good thing about this is that you are not limited by a dosing hopper. The Rocky's 10 oz bean hopper, which is made out of blue tinted plastic, has a cover that helps keep the coffee beans fresh. The modest size of the bean hopper makes storage of the Rancilio Rocky really easy.
A simple grinding dial is used to determine the grind setting.
There are fifty five different grind options available, enabling you to quickly and accurately regulate the setting for a precise grind.
The 166 watt direct drive motor of the Rancilio Rocky Coffee Grinder is extremely quite, comparable with machines in the commercial environment, where noise reduction is essential. The Rocky's powerful motor will keep operating under the most demanding conditions.
However, should the grinder become jammed or overheat there is a thermal overload device that will shut down the grinder to protect the motor or grinding mechanism from any damage. This is a great safety feature.
While the Rancilio Rocky Coffee Grinder is an excellent choice for home purposes, it is also often used by cafes that require a light to medium duty grinder.
Whether you require a coarse or fine grind, the Rocky's large range of grinding options make it a really versatile grinder. Having a superior quality coffee grinder is essential for anyone who is a coffee connoisseur or keen home barista, and who wants to produce the best coffee possible.
The Rancilio Rocky Doserless coffee grinder is an ideal choice.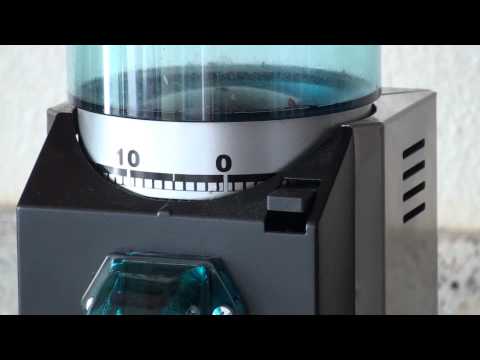 Click the button below to buy the Rancilio Rocky Coffee Grinder directly from the supplier.
They are a 100% secure site and are a BBB Accredited business with a lifetime BBB rating of "A+".
Shipping is worldwide with a 30 day returns policy.
Rancilio Rocky Coffee Grinder